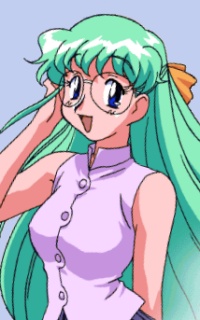 Seera Macleg
シーラ・マクレッグ
PRONUNCIATION:see-rah mack-leg
SERIES:F40
OCCUPATION:Administrative Assistant
WORD ASSOCIATION:Cheerful, Helpful, Weak
Seera is Fauzen's only child. She grew up idolizing her father's work and when Raika started her own detective firm, the perfect opportunity to help defend the law without the requirement of to becoming a policewoman presented itself. She is dedicated to Raika's business and wants to see it succeed. When Raika has doubts that it will, Seera's there to set her straight.
Seera has a weak heart though and is advised by her doctor to avoid stressful situations. This leads to her death when she is kidnapped and raped by the criminals Lilia and Raika are tracking.
Seela is a 17 year old Libra (September 23 - October 22.) She has type O blood and her three measurements are 85-56-87 (33.5"-22"-34").
Appearances

- LEGEND -

Game / Starring Role

Game / Cameo

CG Compilation

Art Book

Manga

Novel

Periodical