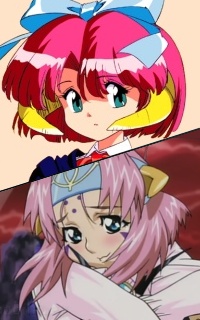 Ratty
ラティ
PRONUNCIATION:rah-tee
SERIES:The Devil Came...
OCCUPATION:Apprentice Succubus
WORD ASSOCIATION:Horny, Lolita, Inexperienced
Ratty is a young succubus-in-training. Possibly named after the Maserati automobile company, she hasn't yet learned to control her own sexual desires and so has not yet graduated to full succubus level or been granted the right to visit Earth to begin reaping souls. She looks to Carrera as a big sister figure and attempts to emulate her, even to the point to trying to seduce Ogawa when she first meets him. When Carrera is taken captive by the angels, Ratty leads the rescue to get her back but by going off on her own she too is captured.
In games outside of The Devil Came... series, Ratty has found a nemesis in Magical Gambler ToToCaL Cyomi's Ruri, perhaps out of jealousy for Ruri's ability to transform into an adult, Cyomi. Their conflict comes to a head in Typing VIPER.
Appearances

- LEGEND -

Game / Starring Role

Game / Cameo

CG Compilation

Art Book

Manga

Periodical

Video

Audio CD