VIPER-GTB Walkthrough

Page 51 | 2 | 3 | 4 | 5 | 6 | 7 | 8 | 9 | 10 | 11 | 12 | 13 | 14
Prologue
Fish are mysteriously dying in the bay. A mysterious light moves along the sea floor.
Meanwhile, Akira and Makoto are having a match. Karin is in the stands cheering for Akira. Both contestants think about how they'll break the 1-1 tie and defeat the other. Though Akira makes a move, neither girl scores and the referee calls for an overtime period. Akira feigns exhaustion and asks to retire. The referee, Makoto, and crowd are all stunned. After a moment, the announcement that Akira has retired and the event will now proceed to the awards ceremony. Tarma, Hrmoni, and Narsha have been watching from the stands. Since the result is unclear, Tarma asks Hrmoni who he thinks won. He responds the red-headed one.
On the bicycle ride home, Karin says she thinks Akira is too good to just quit like that. Akira admits it would be nice to be champion, but she doesn't need trophies or awards. Her friends from work are more valuable to her.
Not long after Akira and Karin return to Anne Mitter's, their old friend Saki shows up and explains that Seed and Kiese were abducted during Kiese's third birthday celebration. She describes how the earth shook and then the aquatic people arrived, with water rushing everywhere. Before she knew it, Seed and Kiese were gone. She doesn't know to whom else to turn. Akira agrees to help save Seed and Kiese.
Surface Cavern - Map 1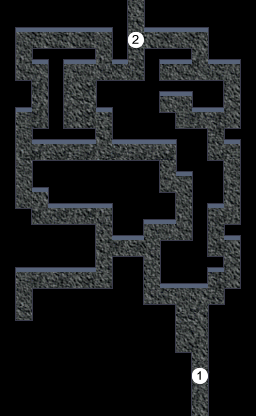 Lead Akira from location 1 to 2. The easiest path is to take a right turn at each fork. There are no enemies here.
At location 2, Akira, Karin, and Saki meet up with the underground kingdom's citizens. One of them describes how the area was flooded and that humans could never hold their breath long enough to rescue Seed and Kiese. Akira asks if they have scuba tanks but Saki provides breathing apparatuses that are much smaller and only need to be bitten to use instead. However she only has five: one each for Akira, Karin, herself, plus a pair for Seed and Kiese, thus the undergrounders can not assist.
Hallway to the Underground Kingdom - Map 2

Lead Akira from location 3 to 4. There are no enemies here.
At location 4, Scene A is unlocked. The story will flash to Seed, who, while chained to a bed, is being tortured by two attendants. Their queen, Irear, comes in to check on their progress and finds Seed is not cooperating. She explains his resistance is futile for his semen will eventually be their's. He states they'll never get it out of him though Irear is skeptical.